Jewish Familiants of southern Moravia - pilot version.
List of some of towns and villages where Moravian familiant licenses were registered and were compiled into Familiant books.
The books are nowadays part of local estate records collections. In some cases the books were lost (e.g. Auscha/Usov, Lundenburg/Breclav, Märische Krumau/Moravsky Krumlov, Schafa/Safov, Trebitsch/Trebic and others).
In those cases, we can study Censuses like the one compiled for Breclav in 1787. That particular one is quite informative because similarly to the Familiant Book showed the former (mostly patronymic) name of the Familiant and latter (newly adopted) family name; moreover in contrast to Familiant Book showed also the daughters. However like any other Census it just recorded the status quo in year 1787 without any update later.
Other alternatives for missing Familiant Books can be the last wills (Safov) =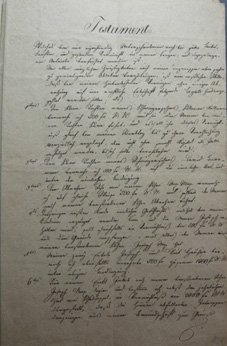 , the records of synagogue seats (Moravsky Krumlov) =
and house registers (Hodonin) =
- click here to see some examples showing the family relationships.
Donatios are welcomed to enable us to develop a public data source.
Bohemia and Moravia Regions of 19. century administration
- click on the southern and central Moravia regions or see the list below
I. BRNENSKY ( Brno / Brunn )
II. HRADISTSKY ( Uherske Hradiste / Ungarisch-Hradisch )
III. JIHLAVSKY ( Jihlava / Iglau )
IV. OLOMOUCKY ( Olomouc / Olmutz)
V. PREROVSKY ( Prerov / Prerau)
VI. ZNOJEMSKY ( Znojmo / Znaim)